make it accessible
Are you sure your employees know what is expected from them at work? MintHCM introduces a mechanism to keep the information about staff's responsibilities transparent. The feature holds insight about career paths, employee obligations and roles in the company. Thanks to Job descriptions everyone stays aware of the hierarchy in the organization, as well as their individual duties.
Every company has an organizational structure of its own. It is advisable to keep a record of what it looks like available for the employees. Instead of a spreadsheet no one ever checks – keep it in your HCM software. It should be everyone's daily habit to fill in information about the time they spend on certain tasks anyway. It means that they are already browsing the system. Why would you send them elsewhere for additional information on their responsibilities?
JOB DESCRIPTION BY MINTHCM
So, how exciting can a job description feature be? It is mostly… well, descriptions. However, it serves a greater purpose. Thanks to it you are able to see through the whole business and understand everyone's role in the organization. It helps to plan everyday jobs, it helps to manage recruitments, it helps to hold appropriate trainings. It gives you advantage of knowing. Simply just that.
MintHCM is the perfect tool to store information about supervisions, benefits, duties, roles and career paths. It helps to manage human resources by adding clear, understandable explanations of everyone's responsibilities, as well as the information about their place in the company. With our system you are always up to date with the latest changes and the official organizational structure. You can go back and check the description of your own position. No more misunderstandings and blind spots in your wing mirror.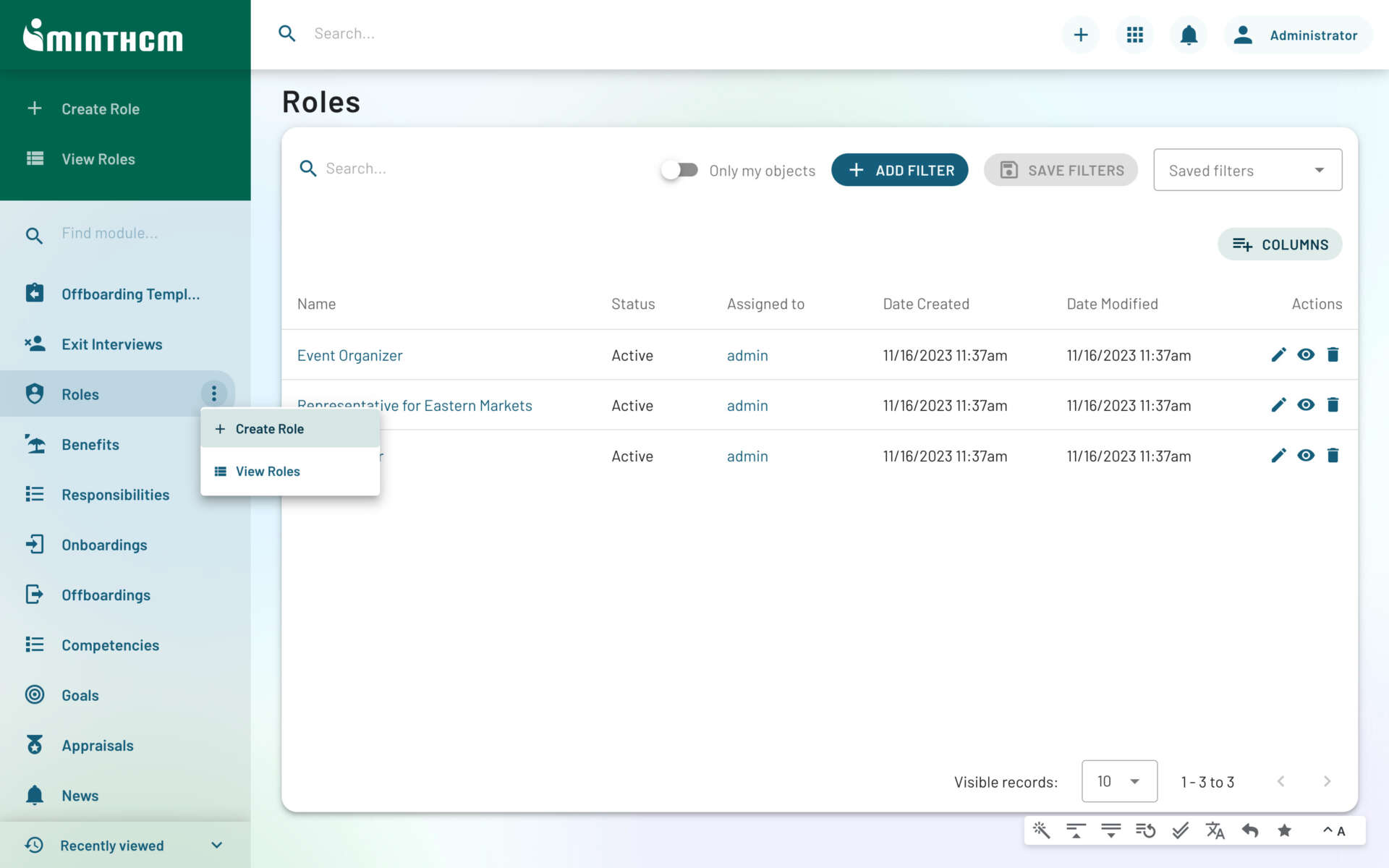 Pay attention to the Employee Journey Map
In MintHCM everything is connected (see the animation on the homepage). This is why it is quite hard to distinguish one feature from the other. We actually recommend that you always hook your job description modules with employee performance, employment history and employee profile. It works in favor of seeing your business from your staff's perspective. This is what the true employee focused HCM software should be all about. In MintHCM you are able to trace the "journey" of each individual back to the time they were a candidate. Perhaps there are some "bumps" to patch up along the way? MintHCM will help you spot those.
What is the Job description feature for?
How do Job descriptions work in MintHCM?